The General Car Insurance Review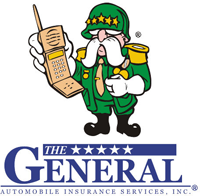 The General Car Insurance Company has been around for almost 40 years and provides car insurance for drivers who fall into a high risk category.
This review of the General Car Insurance Company should help you learn more about the car insurance options available through the General Insurance and assist in your car insurance comparison search.
Who is the General Car Insurance Company?
The General Auto Insurance Company is one of the largest privately held insurance companies in the US and a subsidiary of PGC Holdings Corporation.
The company has a large market share of the high-risk car insurance market in the US and offers a number of affordable plans for drivers who have trouble getting coverage in the voluntary market.
The General Car Insurance Company is best known for their use of an Army General as their spokesperson. A recent General Auto Insurance commercial is below.
Compare car insurance by ZIP code
What types of car insurance does the General Auto Insurance Company offer?
The General Car Insurance Company specializes in high risk car insurance so drivers who have had difficulty obtaining car insurance through typical providers can often find a range of options with general.
Prices are obviously higher but that should be expected as you have a damaged driving record. Some of the most popular types of drivers who make up a large portion of policyholders include people with:
Bad Credit
Prior Accident History
Had previous insurance lapse
DUI or DWI convicted drivers
Drivers under a SR-22 requirement
High risk car insurance can be expensive and sometimes impossible to find through the typical channels but the General has a wide of variety of programs for almost every high risk driver.
How much is car insurance through the General?
This certainly depends on your profile however the General auto insurance company does advertise rates as low as $59 a month with most drivers averaging $125 a month for coverage. Your car insurance rates will be based on a number of factors including:
Where you live
Make and model of the cars
Vehicle safety features
Number of household drivers
Credit score
Your Driving Record
and more
Depending on why you need high risk car insurance your premiums could fall around the average or be much higher. However in comparison to many other car insurance companies the cost of the General Car Insurance coverage is very affordable and customers have many different payment plans to choose from.
Do drivers like the General Car Insurance Company?
Auto insurance in America is very difficult to find for some drivers and the General has made car insurance very accessible and affordable for many drivers who may otherwise have a difficult time obtaining insurance coverage.
Although the company has some bad reviews around response time, customer service and policy options these complaints are generally around for any car insurance company. Most customers of the General Car Insurance Company have high praise for the company.
Where can I buy the General Car Insurance?
Unfortunately the General car insurance company only offers coverage in 18 states but does offer an option to connect you with other car insurance companies in those states they are not licensed as of yet.
People who need high risk car insurance often have limited options and if you are denied coverage in the voluntary market the General Car Insurance Company provides a number of affordable options. Car insurance is mandatory and driving with no insurance is never a good idea.
Compare Car Insurance Quotes Today!