Hagerty Car Insurance Company Review
Free Car Insurance Comparison
Compare Quotes From Top Companies and Save
Secured with SHA-256 Encryption
UPDATED: Jun 29, 2022
It's all about you. We want to help you make the right coverage choices.
Advertiser Disclosure: We strive to help you make confident car insurance decisions. Comparison shopping should be easy. We are not affiliated with any one car insurance provider and cannot guarantee quotes from any single provider. Our partnerships don't influence our content. Our opinions are our own. To compare quotes from many different companies please enter your ZIP code on this page to use the free quote tool. The more quotes you compare, the more chances to save.
In a nutshell...
Hagerty Car Insurance Company S=specializing in custom and collector car insurance
Some states even waive mandatory car insurance requirements for antique cars
Classic cars make up the core business of the Hagerty Insurance Company
The Hagerty Car Insurance Company is home to insurance for many of the world's most famous cars.
Specializing in custom and collector car insurance the Hagerty Car Insurance company provides unique car insurance coverage unmatched by almost all well-known car insurance companies.
Originally started as an insurance company insuring collector/vintage boats, in 1983 the company quickly seized almost half the market share of this niche in the watercraft insurance market and less than a decade later started providing auto insurance for collector cars.
Today the Hagerty Insurance Company may just be the most trusted name for collector car and vintage boat insurance in the world.
Compare car insurance quotes now! Enter your zip code above to get started for FREE!
Why do people choose Hagerty Insurance?
When you need car insurance it's easy to find someone to write a policy, however, collector car owners have much greater needs than simply liability insurance.
Some states even waive mandatory car insurance requirements for antique cars and these cars are truly investments for most owners so they all have many different and unique needs than typical car insurance.
"Almost 50 percent or more of the antique cars on the road are probably insured by the Hagerty Car Insurance Company"
While many car insurance companies offer collector car insurance none do on the scale and with the commitment as the Hagerty Car Insurance Company.
Some of the reasons why policyholders and collector car owners remain loyal to Hagerty insurance include:
Seventeen years experience providing unique policy coverage on boats and collector car owners.
Guaranteed Flatbed Towing
Agreed Value Coverage – This is critical to many collector car owners. The Hagerty Insurance Company offers an agreed value in the event of a total loss at the time a policy is executed. Should a total loss accident happen you will already know how much you will get.
Policyholders Choice of Auto Repair Shop – do you really want a car insurance company to tell you where to fix your antique car? Hagerty Insurance allows you to choose your own licensed repair shop
FREE Car Insurance Comparison
Compare quotes from the top car insurance companies and save!
Secured with SHA-256 Encryption
What kind of cars does Hagerty Insurance Company Insure?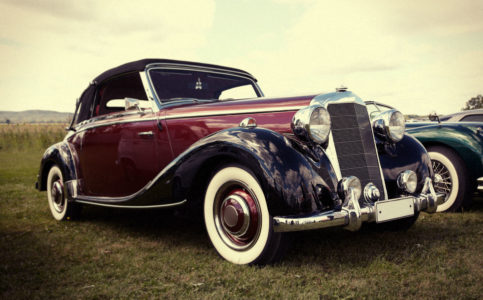 Hagerty Insurance offers car insurance coverage for a wide range of vehicles and not just your grandfather's 1965 Chevy.
In fact, even newer cars that are considered collector cars (like the Corvette ZR-1) may be eligible for coverage depending on the use of the vehicle.
There are many different types of car collectors and antique automobiles are just one segment of the car collector industry.
Hagerty Insurance is known to provide many types of specialized car insurance such as auto insurance for antique and classic cars.
—

Classic Cars

Classic cars make up the core business of the Hagerty Insurance Company, however, the vehicle needs to be more than just old to qualify for coverage.

Storage and usage requirements also play a large role in whether or not Hagerty Insurance will opt to insure your vehicle. Having an antique car sitting in your driveway rusting away is not the kind of vehicle which qualifies.
FREE Car Insurance Comparison
Compare quotes from the top car insurance companies and save!
Secured with SHA-256 Encryption
—

Limited Production Cars
Exotic and limited production cars also fall under the scope of Hagerty car insurance coverage and these vehicles don't necessarily have to be old.
Lamborghinis and Porsches under circumstances where the car has limited use may qualify for exceptional coverage with premiums far less than typical car insurance coverage.
—

Modified Cars

Over the last decade, there has been a big increase in the number of modified cars on the road.

From custom paint jobs to modified engines these vehicles are often purchased/owned by collectors who wish to have car insurance which factors in the additional value of the modification.

Many typical car insurance companies do not offer modified car insurance, however, depending on the modifications you may be able to insure these cars with Hagerty Insurance and take advantage of the many benefits Hagerty's modified car insurance coverage plans provide.
—

Replica Cars

Replica cars fall under the modified car category and while Hagerty Insurance does provide coverage for these there are strict restrictions on the build of the car along with its use, storage, and other variables.

If you own any type of vehicle outside of the typical family car, it's worth inquiring with Hagerty Insurance Company about your policy options.
Can you insure multiple vehicles with Hagerty Insurance?
Yes. Car insurance coverage through the Hagerty Insurance Company seems to be only limited to the number of cars you want to insure as long as they each individually meet the insurability requirements.
For extensive car collectors, Hagerty Insurance also has a "private client services" group to assist with insurance.
The Hagerty Car Insurance Company has almost no equal in the world of collector car insurance and provides significant value in terms of cost and coverage to policyholders.
With a unique perspective on the needs of collector car owners, you may be hard-pressed to find any car insurance company with the same depth of knowledge about this segment of the automobile market.
Very few complaints are ever lodged against Hagerty Insurance with the most common coming from owners who disagree with the agreed value calculation of their car.
Other consumers complain about the storage requirements since Hagerty Insurance often requires any insured car to be stored sufficiently when not in use.
Parking a vehicle on the road doesn't usually qualify you for coverage.
Another downfall is the strict requirements of who they insure requiring a very strict review of your driving record.
Drivers with even a few minor incidents on their driving record may be denied coverage.
Overall the Hagerty car insurance company is one of the best choices for classic and collector car owners with very few insurers even coming close to the value and coverage provided by Hagerty.
How much is Hagerty Car Insurance?
This depends on a number of variables including the type of vehicle, how it's used, the agreed upon value and so much more. If you need collector car insurance you should shop around and compare rates.
Most drivers ultimately end up choosing Hagerty Car Insurance Company for their classic car insurance needs but it's wise to compare as many providers as you can.
Google terms like "collector car insurance" or "modified car insurance" or other terms related to your specific needs to find car insurance companies outside of the typical brands for family cars.
You can also enter your zip code below to find a list of car insurance companies and compare quotes online.

Editorial Guidelines: We are a free online resource for anyone interested in learning more about car insurance. Our goal is to be an objective, third-party resource for everything car insurance-related. We update our site regularly, and all content is reviewed by car insurance experts.