Will my car qualify for classic insurance?
Free Car Insurance Comparison
Compare Quotes From Top Companies and Save
Secured with SHA-256 Encryption
UPDATED: Jul 14, 2021
It's all about you. We want to help you make the right coverage choices.
Advertiser Disclosure: We strive to help you make confident car insurance decisions. Comparison shopping should be easy. We are not affiliated with any one car insurance provider and cannot guarantee quotes from any single provider. Our partnerships don't influence our content. Our opinions are our own. To compare quotes from many different companies please enter your ZIP code on this page to use the free quote tool. The more quotes you compare, the more chances to save.
Here's what you need to know...
Insurance for classic cars is a specialized type of coverage that's designed to meet the insurance needs of specialty or vintage cars
While some cars may be old or considered classic by their owner, not every car will meet the requirements of a classic car
In most situations, the value of your car must be higher than the original selling price
In addition, insurance providers usually have usage or storage requirements that you must meet
Insurance providers will also take factors like your age or your driving record into account when assessing rates
Classic cars are different than traditional cars. Due to the differences in these types of cars, a standard personal auto policy normally does not provide adequate coverage for a classic car.
To protect yourself from the risks associated with owning a classic car, finding out if you qualify for classic car insurance is important.
Enter your zip code above to find the best rates for car insurance in your area!
Your Car Needs to Meet Classic Car Requirements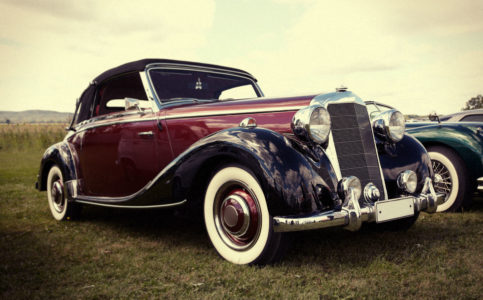 Each insurance provider has a set of criteria that is used to determine if a vehicle is a good insurance risk. These factors change based on the type of car and the type of insurance being purchased.
While classic car insurance has some similarities to a traditional auto insurance policy, they also protect against some unique risks that daily use cars do not encounter.
Classic cars, for instance, may not be operated as a daily use or commuter car.
This means you may not use it for running errands, commuting to and from work, or commercial applications.
In addition, some insurance providers provide limitations on how many miles a classic car can accumulate annually, or they may require you to own a daily use car in addition to your classic car.
While your insurance provider may have limitations on how you can use a classic car, there are some exceptions to when you can operate it. For instance, if you are traveling to a car show or auto club meeting, your insurance coverage may extend to these situations.
Before heading to one of these meetings, be sure to speak with your provider to understand what coverage they offer in this situation.
Your insurance provider may also require that you store your classic car according to policy-specific requirements. This could mean that you have to use a locked storage unit designed to protect classic cars, or you could use a locked residential garage.
If these requirements are not met, then your insurance policy may not provide coverage in the event of a claim.
FREE Car Insurance Comparison
Compare quotes from the top car insurance companies and save!
Secured with SHA-256 Encryption
FREE Car Insurance Comparison
Compare quotes from the top car insurance companies and save!
Secured with SHA-256 Encryption
You Need to Meet Classic Car Insurance Policyholder Requirements
In addition to your car meeting the definition of a classic car, you must meet specific criteria to become a classic car insurance policyholder.
While this does not affect whether or not your car is a classic car, it will affect whether or not an insurance provider is willing to provide coverage to you.
Insurance providers are often looking to insure risks that are not likely to result in a claim, meaning cars that are in good shape and drivers that operate their cars responsibly.
Your driving record can be a factor that a prospective provider will look at. If you have a serious offense on your record, it may result in higher premium costs, or it could keep you from obtaining coverage at all.
You May Need to Have Your Car Appraised
In addition to meeting the definition of a classic car, you usually have to show that your car has value.
A traditional, daily use vehicle begins to depreciate shortly after you purchase it. A classic car, however, tends to appreciate in value over time. Many insurance providers expect a classic car to have a higher value than when it was originally purchased.
Having an appraisal completed for your car is a helpful way to illustrate your car's value to your insurance provider.
This allows a third-party company, usually one that specializes in appraising vehicles, to prepare a report documenting your car's value.
This can be helpful for a couple reasons, one of which is obtaining insurance coverage. Your car's value will have a direct correlation to the amount of coverage you need.
Having a reputable, third-party complete an appraisal can also be helpful in the event of an accident or theft. Insurance providers traditionally pay out insurance claims based on a car's value, not what was paid for it.
With classic cars, as they can appreciate in value, it's important to have an accurate assessment of your car's value completed annually. This allows you to provide your provider with evidence of your car's value, in the event of an accident or theft.
The Importance of Classic Coverage
Classic cars often face risks that are unique or carry a higher cost than traditional, daily use vehicles. While the process to find out if your car qualifies for classic car insurance can be time-consuming, it is important to protect your vehicle and your wallet.
When researching different providers, it's important to make sure you can meet the requirements outlined in your insurance policy.
If you have questions about the types of restrictions that may be placed on your classic car's use, it's important to speak with your prospective or current provider.
They can discuss any requirements, such as travel restrictions or mileage limits while making sure you understand what is your responsibility.
Enter your zip code below to compare car insurance rates from multiple companies today!
FREE Car Insurance Comparison
Compare quotes from the top car insurance companies and save!
Secured with SHA-256 Encryption
Editorial Guidelines: We are a free online resource for anyone interested in learning more about car insurance. Our goal is to be an objective, third-party resource for everything car insurance-related. We update our site regularly, and all content is reviewed by car insurance experts.